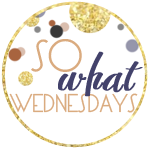 So what if...
- I just posted an hour ago. I'm trying to figure out a blogging routine, and I can see doing this every Wednesday.
- It's lunch time on my day off and I haven't done a single productive thing. (And I have a to-do list a mile long!)
- I didn't go to my great aunt's funeral this week. Funeral's and I don't get along at all and I hadn't seen her in years. She hasn't even recognized my dad (her nephew) in at least five years.
- I had McDonald's for lunch twice in the past week. I'm joing Weight Watchers this weekend so I need to get it out of my system...
Is there anything you're saying "so what" to this week?
xo,
Sara